Among the CantaMia homes for sale in Estrella Mountain Ranch, Aria Plan offers the perfect melody of an open, flexible three or two-bedroom with den floor plan or even a dual master suite. The Aria Plan is the ideal accompaniment for the seasonal or part-time resident that seeks a beautifully designed and low-maintenance, resort-style home. Check out AV Homes CantaMia today.
Aria Plan CantaMia
Estrella Mountain Ranch
1,419 Sq Ft
From $229,990
Please Call John Deutsch   480-256-8688
johnnyd@homesinestrellamountain.com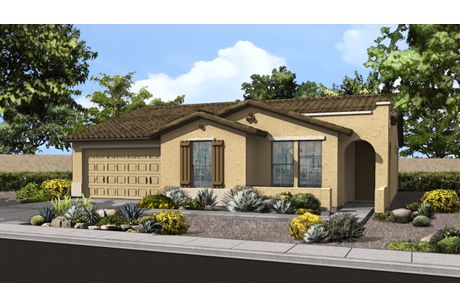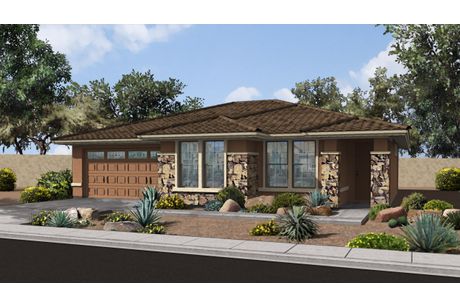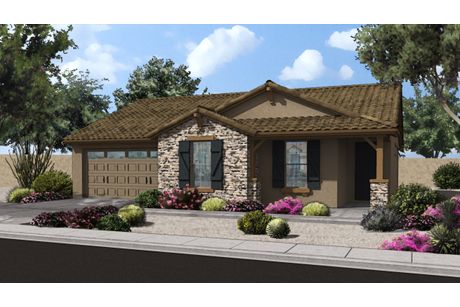 CantaMia at Estrella
All 55-Plus communities are not born alike, and CantaMia of Estrella Mountain Ranch is convincing proof of that. After years of studying the active adult and baby boomer lifestyle, we have envisioned and carefully developed a very special 55-Plus community where you can relax, learn, grow, mentor, steward, and truly enjoy the best years of your life.
CantaMia is located within the renowned master-planned community of Estrella Mountain Ranch which offers more than 500 acres of parks and open space including 72 acres of lakes for boating and fishing, 20+ miles of paths and hiking trails, and the Nicklaus Design championship golf course, The Golf Club of Estrella.
CantaMia is a private, gated community for those 55-Plus. It is almost like living in a resort, as we can play a round at The Golf Club of Estrella, or take a class at our own Village Center featuring indoor and outdoor pools, a state-of-the-art fitness center, lakeside lounging areas, pickleball, and more. Our furry friends even have a place to socialize at the dog park. While we enjoy our retreat away from it all, we also appreciate the ability to interact with people of all ages within the greater Estrella community. If we simply want to enjoy the peaceful serenity of the desert, we can return to our beautiful energy efficient, green homes.
At AV Homes CantaMia, we understand that you're looking for more than just a new house. You're looking for a home designed for you and your needs, CantaMia homes for sale in an active adult community where you feel a sense of belonging and unity, a home that you can live in for years to come as your haven of comfort and joy. Whether you are looking for that perfect place to start the next chapter in your life where you can live an active 55-Plus lifestyle and meet new people, or are looking for the next house to call home for your growing family, AV Homes has a community and a home for you. Contact the best Estrella Mountain Realtor today. John Deutsch will help you find your dream home from the new CantaMia homes for sale or from the CantaMia resales.
CantaMia "stands for" sustainability as a comfortable and creative way of living, where you and nature are connected and mutually enhanced. An innovative community offering a distinctive approach to sustainable living in Arizona. With more than 1,700 active adult home sites available, Av Homes Canta Mia delivers unique and compelling choices to fit both your lifestyle and your budget. Embrace your personal journey and engage in the multi-generational energy of Estrella Mountain Ranch – a truly exclusive approach of integrating an active adult community within a robust master plan. At Canta Mia, the journey is yours and the choices are many, encouraging healthy connections with the environment and one another. Living in harmony with your surroundings involves respect for the environment, commitment to a greater community and financial viability. Visit AV Homes CantaMia to learn more about this new approach to affordable sustainability and active adult homes in Arizona. A full and active life awaits you.
AV Homes CantaMia is committed to offering the active adult environment you seek…the amenities you want…the rewarding, fulfilling lifestyle you deserve…the sense of security and homeowner value you expect. We have been serving new home buyers for more than 50 years. During that time, we've learned that satisfying our customers is one of the most important things we can do. And that translates to confidence in your home buying experience. Interested in finding out more about new CantaMia homes for sale or CantaMia resales, just call John Deutsch. That will be your first step in finding your new home.
Contact the best Estrella Mountain Realtor today. John Deutsch will help you find your dream home from the new CantaMia homes for sale or from the CantaMia resales.
480-256-8688
The Aria Plan