Estrella Foothills High School
Goodyear Az 85338
Estrella Foothills High school, which opened in August of 2001, is located within the Estrella community of Goodyear, Arizona. The school, which is part of the Buckeye Union High School District, currently serves approximately 1,000 students in grades 9 – 12. Estrella Foothills has been recognized as an A+ School of Excellence by the Arizona Educational Foundation and has received the A+ Exemplary Program Award for the Career & College Prep Program.
At Estrella Foothills High School, students benefit from a block schedule that allows them to complete the necessary coursework required for high school graduation and university entrance, while still having time to take desired electives. Advanced Placement, honors and dual enrollment courses are available. The Career and Technical Education offerings include Sports Medicine, Broadcast Media, Business, Culinary Arts, Drafting, Metals Manufacturing, Photography and Technical Theatre. The Fine Arts offerings include Dance, Drama, Music, and Visual Arts.
At EFHS, we are committed to success for all students through building relationships, establishing relevance and increasing rigor. 
Please Call John Deutsch   480-256-8688
johnnyd@homesinestrellamountain.com
BUHSD CALENDAR

CLICK ON PHOTO FOR SCHOOL WEBSITE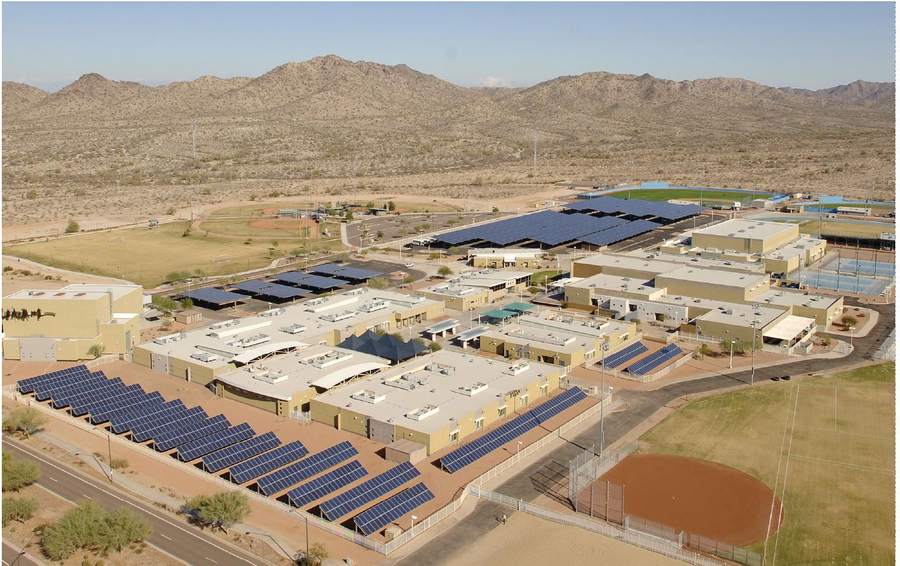 History Of Estrella Mountain
The Estrella Mountains were pioneered by the Akimel O'odham people, and currently the Estella Mountains soar over the villages that once inhabited them in the Gila River Indian Community. The land was claimed as the New Spain during the colonization of America.
Mexico eventually announced its liberty from Spain. The Estrella Mountains became part of Mexico. The United States obtained the Estrella Mountains from the Mexican people in part due to the Gadsden purchase. The Butterfield Overland stage moved in and started moving people from California to the area. It was a popular trade route. Eventually, progress took over and the stage went away to make room for the railroad.
The last battle between native Americans, that of Pima Butte took place in 1857. The Akimel O'odham people were overtaken by the Apache, Mohave, and Yuma people. Afterwards a lot of gold seekers were searching for Montezuma's treasure which is believed to still be buried in the Sierra Estrellas.
In 1985, Charles Keating of the renowned Lincoln Saving & Loan debacle purchased federally reserved land from the government, to create a master planned community inside the foothills of the Estrella Mountains. A year later, development started. In 1999, a Jack Nicklaus designed golf course was added to the community. Since that time many more amenities along with shopping and schools came to Estrella. As Estrella Mountain continues to grow, the charm of it will never be lost.
Please Call John Deutsch   480-256-8688
johnnyd@homesinestrellamountain.com
For more information on homes in Estrella Mountain for sale, contact John Deutsch today.