Estrella Mountain Ranch Shopping And Dining
Goodyear Arizona 85338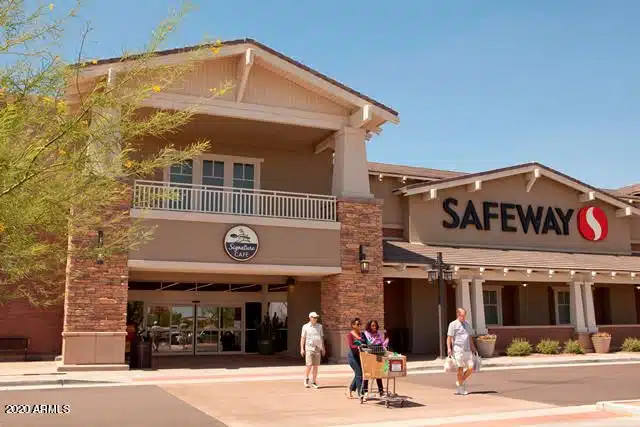 Our 22-acre, Estrella Mountain Ranch Marketplace in Goodyear Arizona is the first LEED (Leadership in Energy and Environmental Design) Gold certified shopping center in Arizona. Safeway is the first grocery store in the Estrella Mountain Ranch community. We can stay close to home for all the things we need, even if shopping takes longer now that we bump into so many friends! Beyond Safeway, we also have Walgreen's, Chase Bank, Oasis Bagels, McDonald's, Papa John's, Subway, Great Clips, and much more.
Elliot Market is right across the street for gas, conveniences and pizza at Taste of Italy. Then right next door, you can see Estrella Mountain Ranch Medical Commons where Banner Health Center provides high quality medical care and other health services. 
Click On Photo
Estrella Mountain Ranch Shopping And Dining
Located at the main entrance of Estrella in Goodyear Arizona, a master-planned community on the northwest corner of Estrella Parkway and Elliot Road, the 22-acre shopping center is the development's first retail center. It provides 165,000 square feet of grocery, drug, and retail space at full build out. The first phase will contain approximately 109,000 square feet.
The Mountain Ranch Marketplace shopping center is a joint venture between Kitchell Development and Newland Communities. In addition to Safeway, a number of other retailers are locating in Mountain Ranch Marketplace, including Mini-Skool, Chase Bank, Walgreens, Papa John's Pizza, Great Clips, Estrella Family Dentistry, Estrella Homes and Land, SW Ambulance, Oasis Bagels and several others that are in various stages of lease negotiation. Other tenants interested in leasing space should contact Chad Russell of Cowen Commercial at (602) 954-9966, or Randy Titzck at Arizona Land Advisors at (480) 874-4327.
"Mountain Ranch Marketplace is one of the few grocery/drugstore-anchored neighborhood shopping centers that is open in metropolitan Phoenix. This is a testimony to the high quality of the real estate and, in particular, Estrella, as one of the top master-planned communities in Arizona."
The shopping center is designed in the cottage-bungalow architectural style, characterized by low-pitched gabled roofs, rectangular composition and deep overhanging eaves. Signature elements include overlapping trellises, brick and stone accents, tapered columns, and open roof overhangs with exposed rafter tails and outriggers.
Please Call John Deutsch 480-256-8688
johnnyd@homesinestrellamountain.com
For more information on homes in Estrella Mountain Ranch for sale, contact John Deutsch today.