HAVASU PLAN
2,105 SQ FT
FROM $342,990
Designed with your busy lifestyle in mind, the Havasu Plan features a dynamic floor plan with stunning interior details throughout. Step into the kitchen, which highlights stainless steel appliances, spacious granite counter tops, a sprawling kitchen island, a family dining area and a walk-in pantry that leads to the 2-car garage. Off the kitchen is an incredible great room with coffered ceilings, an entertainment center niche and twelve-foot sliding glass doors allowing you to soak in the breathtaking mountain views.
Unwind at the end of the day in the private master retreat, which features a master bath with a relaxing drop tub, a separate walk-in shower, and a capacious walk-in closet, that has direct access to the utility room. Additionally, you will find two extra bedrooms, a separate dining room, a covered front porch and an expansive covered patio.
Come home to a space perfect for entertaining and living, the Havasu Plan by Terrata Homes.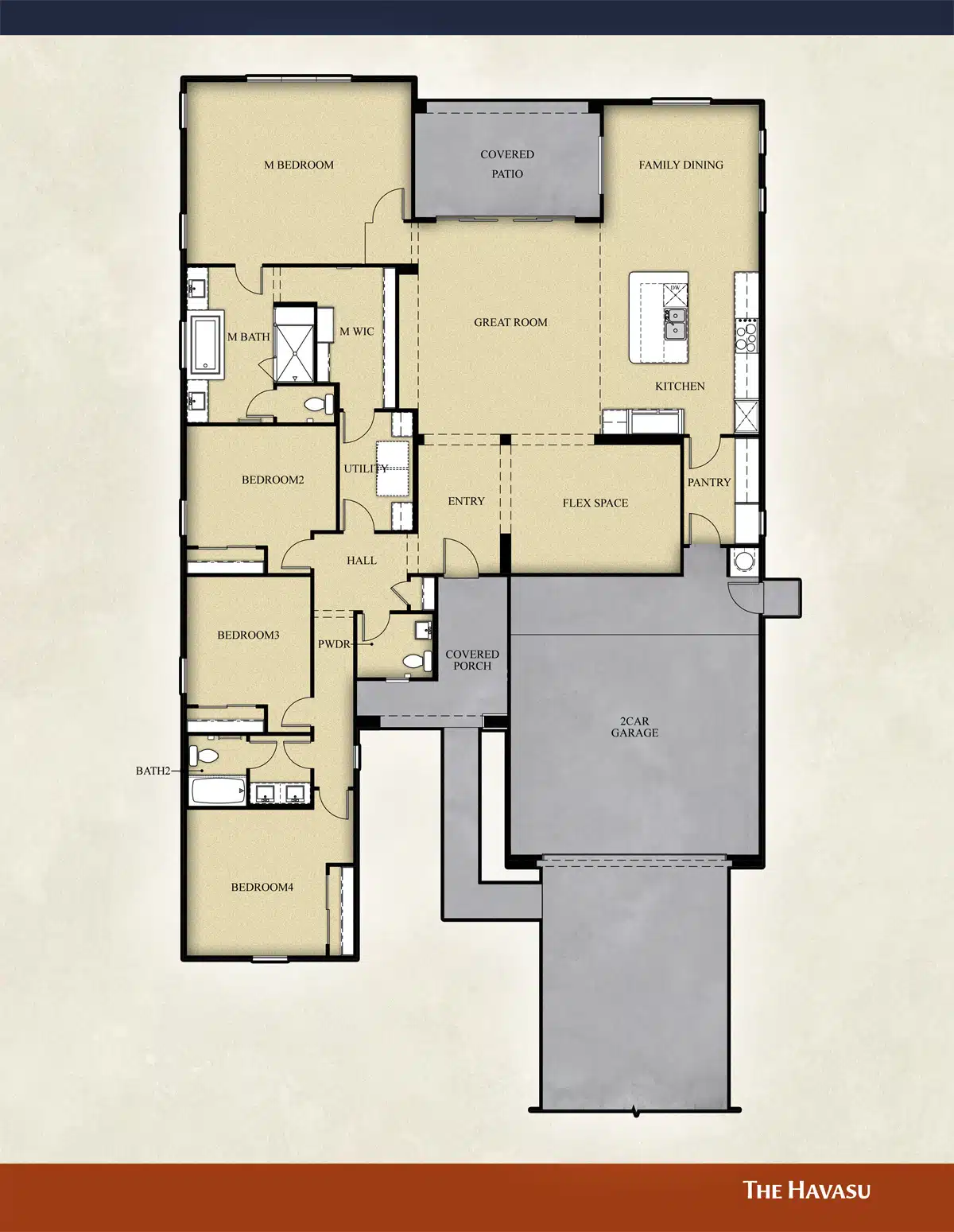 Please Call Johnny D 480-256-8688
johnnyd@homesinestrellamountain.com

History Of Estrella Mountain
The Estrella Mountains were pioneered by the Akimel O'odham people, and currently the Estella Mountains soar over the villages that once inhabited them in the Gila River Indian Community. The land was claimed as the New Spain during the colonization of America.
Mexico eventually announced its liberty from Spain. The Estrella Mountains became part of Mexico. The United States obtained the Estrella Mountains from the Mexican people in part due to the Gadsden purchase. The Butterfield Overland stage moved in and started moving people from California to the area. It was a popular trade route. Eventually, progress took over and the stage went away to make room for the railroad.
The last battle between native Americans, that of Pima Butte took place in 1857. The Akimel O'odham people were overtaken by the Apache, Mohave, and Yuma people. Afterwards a lot of gold seekers were searching for Montezuma's treasure which is believed to still be buried in the Sierra Estrellas.
In 1985, Charles Keating of the renowned Lincoln Saving & Loan failure purchased federally reserved land from the government, to create a master planned community inside the foothills of the Estrella Mountains. A year later, development started. In 1999, a Jack Nicklaus designed golf course was added to the community. Since that time many more amenities along with shopping and schools came to Estrella. As Estrella Mountain continues to grow, the charm of it will never be lost.
For more information on the Havasu Plan or other homes in Estrella Mountain for sale, contact Johnny D today.
480-256-8688