Prayer-Discipeship-JohnnyD
What Is Prayer?
Prayer can be described as a solemn request for help or expression of thanks to God. Some say it is a communication process that allows us to talk to God. Others say it is a reverent petition made to God and others say it is a spiritual communion with God. Based on these definitions, God is the center point of prayer. Not only is He the center point, but He is also the origin of prayer. God actually provides us directions on how to pray, in His Word, Matthew 6:9 – 13;
"This, then, is How You Should Pray:   
"'Our Father in heaven, 
hallowed be your name, 
10  your kingdom come, 
your will be done, 
    on earth as it is in heaven. 
11  Give us today our daily bread. 
12  And forgive us our debts, 
    as we also have forgiven our debtors. 
13  And lead us not into temptation,
    But deliver us from the evil one
  What Is The Secret Of Powerful Prayer?
I cannot say "OUR"
If my faith has no room for others and their needs.
I cannot say "FATHER"
If I do not demonstrate this relationship in my daily living.
  I cannot say "WHO IS IN HEAVEN"
If all my interests and pursuits are only about earthly things.
I cannot say "HALLOWED BE YOUR NAME"
If I do not live to make God and His power look good to others.
I cannot say "YOUR KINGDOM COME"
If I do not seek the pursuit of God's purposes.
I cannot say "YOUR WILL BE DONE"
If I am unwilling or resentful of having God's will done in my life.
I cannot say "ON EARTH AS IT IS IN HEAVEN"
If I continue to live for what the world offers.
  I cannot say "GIVE US THIS DAY OUR DAILY BREAD"
If I do not trust God for my daily provisions.
I cannot say "FORGIVE US OUR DEBTS"
If I do not confess them to God.
  I cannot say "AS WE ALSO HAVE FORGIVEN OUR DEBTORS"
If I continue to harbor a grudge against anyone.
  I cannot say "LEAD US NOT INTO TEMPTATION"
If I deliberately remain in a situation where I am tempted.
  I cannot say "DELIVER US FROM THE EVIL ONE"
If I do not put on the full armor of God.
  I cannot say "YOURS IS THE KINGDOM"
If my ways are more important to me.
  I cannot say "YOURS IS THE POWER"
If I fear what my friends or neighbors will say or do.
  I cannot say "YOURS IS THE GLORY"
If I am seeking my own glory first.
  I cannot say "FOREVER AND EVER"
If I am too anxious about each days affairs.
  I cannot say "AMEN"
Unless I honestly say, "cost what it may, that is my prayer."
How Often Should I Pray?  
1 Thessalonians 5:17 pray continually
Colossians 4:2 Devote yourselves to prayer, being watchful and thankful.
How Do We Prepare Ourselves For Prayer?
Jeremiah 29:12 Then you will call on me and come and pray to me, and I will listen to you.
Matthew 6:6 But when you pray, go into your room, close the door and pray to your Father, who is unseen. Then you're Father, who sees what is done in secret, will reward you.
Philippians 4:6 Do not be anxious about anything, but in every situation, by prayer and petition, with thanksgiving, present your requests to God.
  James 5:13 -17 Is anyone among you in trouble? Let them pray. Is anyone happy? Let them sing songs of praise.  14  Is anyone among you sick? Let them call the elders of the church to pray over them and anoint them with oil in the name of the Lord.  15  And the prayer offered in faith will make the sick person well; the Lord will raise them up. If they have sinned, they will be forgiven. 16  Therefore confess your sins to each other and pray for each other so that you may be healed. The prayer of a righteous person is powerful and effective.
What Are The Results Of Prayer?
1 John 1:9 If we confess our sins, he is faithful and just and will forgive us our sins and purify us from all unrighteousness.
  2 Chronicles 7:14 if my people, who are called by my name, will humble themselves and pray and seek my face and turn from their wicked ways, then I will hear from heaven, and I will forgive their sin and will heal their land. (This is my favorite verse in the Bible)
1 Timothy 2:1–4 I urge, then, first of all, that petitions, prayers, intercession and thanksgiving be made for all people—  2  for kings and all those in authority, that we may live peaceful and quiet lives in all godliness and holiness.  3  This is good, and pleases God our Savior,  4  who wants all people to be saved and to come to a knowledge of the truth.
 Jesus took prayer so seriously we will see in these two verses the depth of what prayer is about.
  Luke 6:12 One of those days Jesus went out to a mountainside to pray, and spent the night praying to God.
    Luke 22:44   And being in anguish, he prayed more earnestly, and his sweat was like drops of blood falling to the ground.
In the first, Jesus prayed all night. It shows us the commitment and obedience He had. It should be an example to us that we too should take it seriously and follow. In the second, when it states He prayed more earnestly and that His sweat was like drops of blood falling to the ground, we can clearly see how intense prayer can be and how intimate our relationship to Almighty God can be.
For those of you that need prayer, and that would be everyone, please call me. I would love to pray for you. In Matthew 18:19 it says,   "Again, truly I tell you that if two of you on earth agree about anything they ask for, it will be done for them by my Father in heaven.  20  For where two or three gather in my name, there am I with them." In 1 Peter 5:7 it says, "Cast all your cares upon Him, because He cares for you." How neat that we have a caring and loving God that He wants to hear from us. My prayer for each of you is that you come to His throne of grace, accept everything He has for you, and then be obedient to His calling for your life. Amen and Amen!
What Is Discipleship?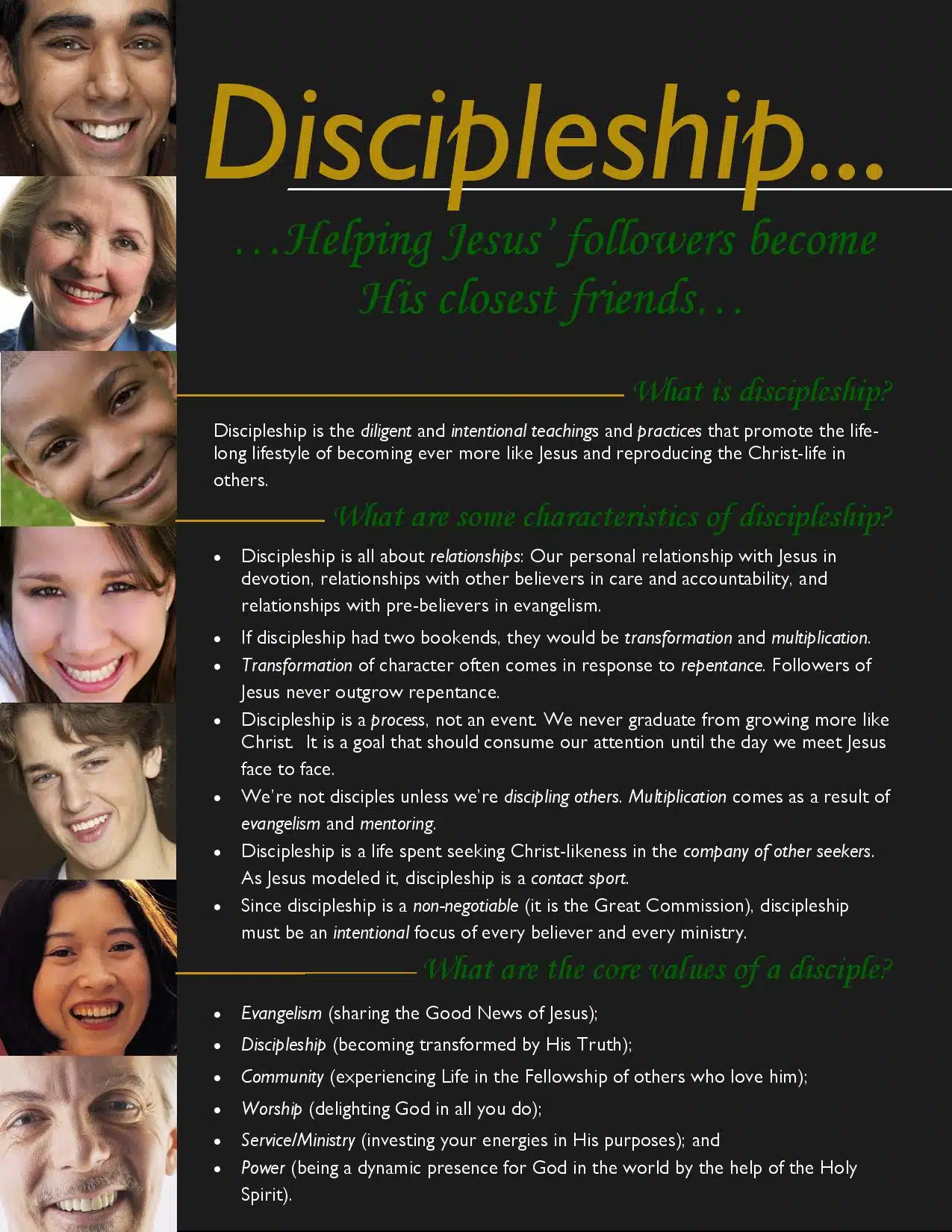 Why Should We Disciple?
The answer is easy. Were commanded to. It's not an option.

The Great Commission
Matthew 28:19 Therefore go and make disciples of all nations, baptizing them in the name of the Father and of the Son and of the Holy Spirit, 20 and teaching them to obey everything I have commanded you. And surely I am with you always, to the very end of the age." 

Who Needs To Be Discipled?
Again, that is easy. EVERYONE!

How Do I Get Discipled?
Again, the answer is easy. Enroll in my Discipleship Boot Camp. It's free. The price has already been paid!

  Discipleship Boot Camp
Below is a link for the first lesson of ten. Please print it out, work on it, complete it, and then contact me to discuss. After discussion, I will provide you lesson two. And the same process for the rest of the lessons. Upon your graduation from Discipleship Boot Camp, you will not only be on the winning team and a soldier in God's Army, you will have attained the distinct rank of Commissioned Officer. The world's requirement for officer in the military, is either 4 years of college, a degree and thousands of dollars spent on tuition, or just working yourself up through the ranks over a period of years. Instead, a soldier in God's Army immediately receives the new title of Commissioned Officer, "Recruiter For Christ." It will then be your responsibility to disciple others. I will provide you all ten lessons so that you can go and disciple others. I will require you to disciple two people, which should be easy if you have family, friends, and co-workers. You then will be responsible for holding those two accountable for discipling two more each and on and on it goes.