SPRING TRAINING BASEBALL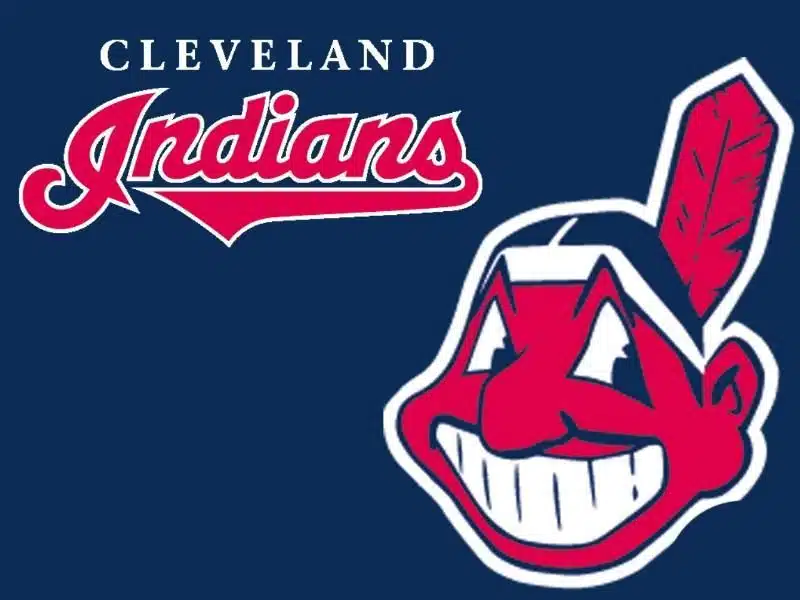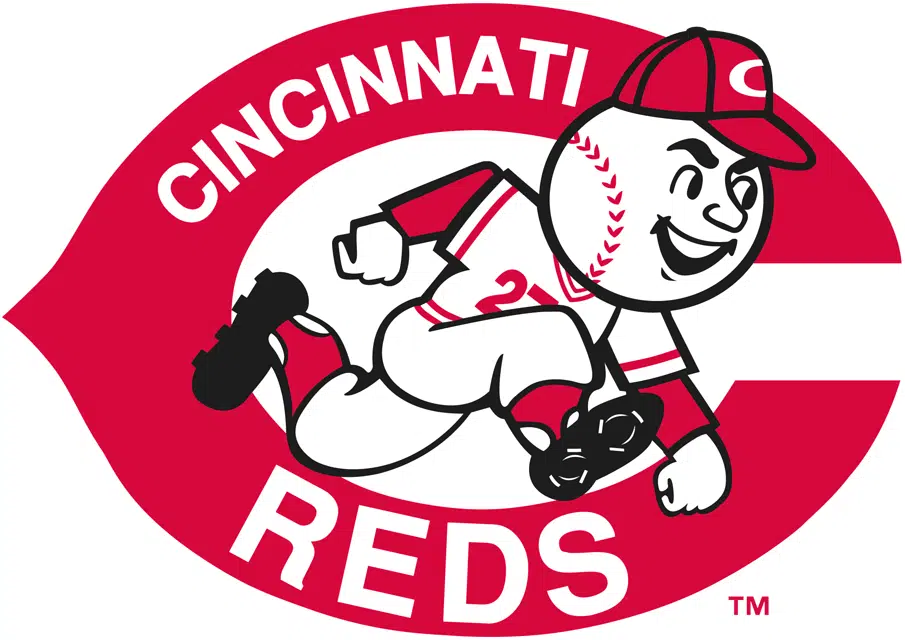 The Cleveland Indians joined the Arizona Cactus League in 2009 when they moved their Spring Training operations from Florida to Goodyear. The project included both the Goodyear Ballpark – and the Indians' Clubhouse/Player Development Facility & practice fields. Almost 100,000 fans attended Indians Spring Training games in the 2009 season!
The Cincinnati Reds hosted their first Spring Training season at the Goodyear Ballpark in 2010. This brought both Ohio Major League baseball teams to Goodyear and Arizona. The Reds Clubhouse and Player Development facility opened officially on October 16, 2009.
The  Goodyear Ballpark  opened on February 21, 2009 – is located on a 3-acre parcel southeast of the future Goodyear City Center. The stadium includes 8,000 stadium seats, 1,500 berm seats, six suites, and a 500-seat party deck area, for a total seating capacity of 10,311.
Just south of the Ballpark, the Goodyear Recreational Sports Complex includes clubhouse/player development facilities and practice fields for each team on site of more than 100 acres. Many of these facilities are available to the City of Goodyear outside of Spring Training season for recreational leagues and special events.
Twelve Major League teams conducted Spring Training in the Arizona  Cactus League  in 2008. That number grew to fifteen teams in 2010.
Cactus League play in Arizona started in Tucson in 1946 – the same year that Goodyear was incorporated – with the Cleveland Indians move from Florida. They went back east in 1993; but have now returned – to Goodyear!
Goodyear Ballpark is located 20 miles west of downtown Phoenix. From I-10 West take Exit 127 (Bullard Avenue) and turn left or take Exit 126 (Estrella / Pebble Creek Parkway) and turn left. The ballpark is located approximately 2.5 miles south of I-10, just past Yuma Road.
Goodyear Ballpark
1933 S. Ballpark Way
Goodyear AZ 85338
623-882-3120
Please Call John Deutsch   480-256-8688
johnnyd@homesinestrellamountain.com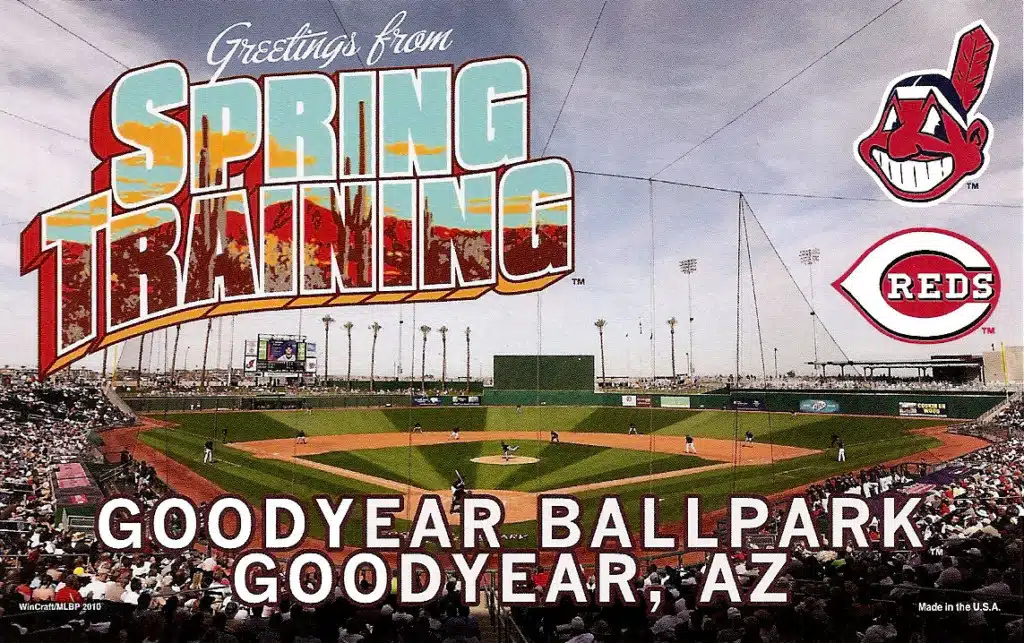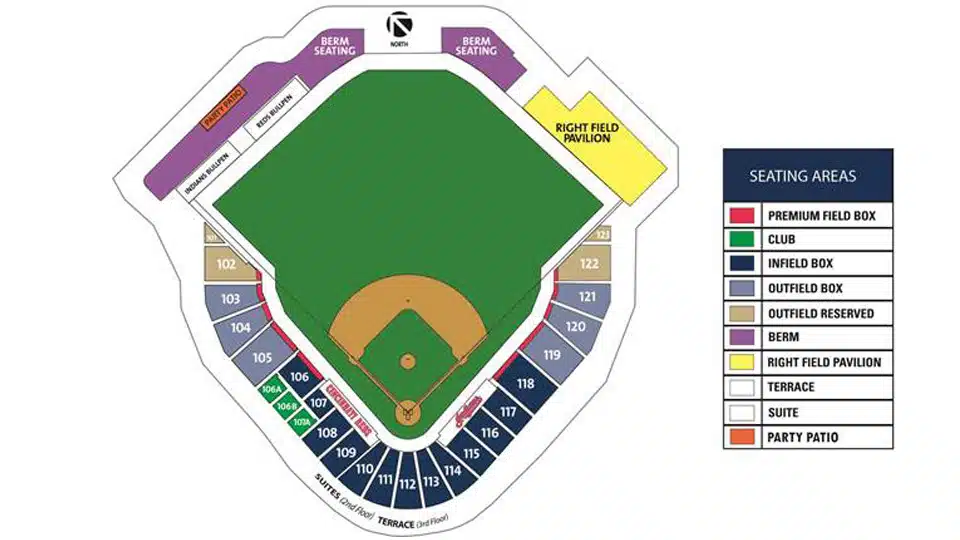 CACTUS LEAGUE TICKETS (CLICK FOR INFO)


CACTUS LEAGUE SCHEDULE AND MAP 2021

FREQUENTLY ASKED QUESTIONS 
 Can I purchase tickets by phone? Yes. Season, group and mini-plan (3 or more games) tickets may be purchased through the Ticket Office by calling 623-882-3130. You may purchase tickets for individual games through Ticketmaster by phone at 800-745-3000.
Do I need a ticket for my one-year old? No, children two years old and younger do not need a ticket as long as they sit on an adult's lap. Tickets are required for those ages three years and older.
3. Do you have any seating in the shade? Sometimes the Arizona sun can be strong for visitors coming from colder climates. For those wanting to sit in the shade, we offer Club Seating under a shade cover in sections 106A, 106B and 107A. The Right Field Pavilion is partially shaded, and you can also catch some shade in the upper rows of several seating sections behind Home Plate. Our ticket sellers are more than happy to assist you with your seat selections to ensure you enjoy your time at the ballpark.And yes, we do sell sunscreen in the Team Shop!
4. How far is Goodyear Ballpark from other Cactus League facilities? Goodyear Ballpark is within 15-45 minutes of all the other Cactus League facilities. 
5. What is that statue supposed to be? We get this one a lot.    is a fiberglass sculpture created by world-renowned artist, Donald Lipski. It stands 60′ 6″ tall, representing the distance between home plate and the pitcher's mound.
 6. What is ZIZZY? ZIZZY is Goodyear Ballpark's lovable mascot, modeled and named after The Ziz, our well-known sculpture. ZIZZY can be found at all of our Spring Training games, as well as other events at the ballpark and around town. He even has his own trading card!   
Goodyear Ballpark is the Spring Training and player development home of both of Ohio's Major League Baseball teams – the Cleveland Indians and Cincinnati Reds. Each team has a year-round presence in Arizona, through Spring Training, extended Spring Training, Rookie League, Fall Instructional League, and rehabilitation of injured players at their training complexes. 
Training Complexes
The Indians and Reds Development Complexes each include a 42,000 square foot clubhouse, 6 full-size practice fields, two infields, batting cages, pitching mounds, hitting tunnels, and observation towers. During Spring Training season, the public can watch the teams' daily workouts on the practice fields starting at 9:15 a.m. 
In order to accommodate the desires of fans / guests at Goodyear Ballpark, while also recognizing the need to maintain maximum safety and comfort levels, the following Ballpark regulations have been established. 
Items Allowed
The following items are permitted provided they do not interfere with other guests' enjoyment of the game.  All items are subject to search:
Food and beverage policy allows:Small bags not exceeding 16" X 16" X 8"Factory sealed, pre-packaged single serving snack items
One factory-sealed plastic water bottle (non-carbonated and colorless water only) not exceeding 1 liter in size per fan
Children's single serving juice drinks in factory sealed box or pouch package
Baby formula and baby food
Foam seat cushions (no frames)
Small umbrellas not exceeding 36″ in diameter – must not interfere with other guests' enjoyment of the game
Baby strollers and diaper bags
Non commercial cameras and video recorders
Blankets or towels
Banners that do not include obscene, political, or commercial messages and do not interfere with the game or block the view of any other guest
Items Not Allowed
The following items are prohibited from entering into the Ballpark:
Cans, glass, hard-sided coolers, beverage containers, squeeze bottles, thermos bottles, and large bags or packages
Firearms or deadly weapons in accordance with A.R.S. § 13-3102.
Noisemaking devices or laser pens
Action sports equipment such as skateboards, roller blades, scooters, bicycles, and shoe skates
Alcoholic beverages and illegal drugs
Large umbrellas and lawn chairs
Commercial cameras or video recording devices, tripods
Animals and pets (except for certified service dogs for guests with disabilities)
Food and beverage items not outlined in the Ballpark food and beverage policy
Obscene or indecent clothing
Ballpark Ground Rules 

No smoking within the Goodyear Ballpark. A.R.S. § 36-601.01 and Goodyear City Code 11-1-18(C)(4).
No trespassing on the field at any time.
Peddling or soliciting is prohibited.
Resale of tickets within 200′ of the Goodyear Ballpark Complex is prohibited. A.R.S. §13-3718.
Foul, abusive language or obscene gestures will not be tolerated. A.R.S. § 13-2904.
Guests will refrain from displays of affection inappropriate in a public setting.
Intervention with impaired or intoxicated guests will be handled in a prompt and safe manner.
Guests are required to show their ticket upon request and sit only in their ticketed seat.
Guests interfering with the process of the game or going onto the field will be ejected and subject to arrest.
GOODYEAR VISITOR GUIDE 2020